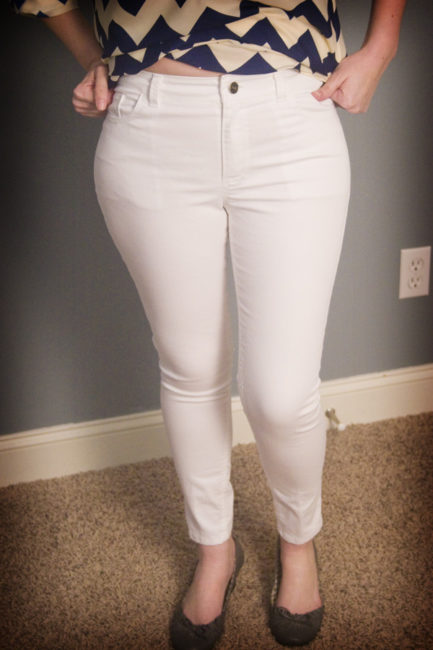 My previous pair of jeans (really my first ever!) turned out pretty great except for a few minor fit issues and the front zipper placement. My goal with this second pair was to improve on the fit and get it just right.
These are such comfy jeans and I think they are the best fitting I have in my closet! I'll definitely be making more, and in fact bought some bright teal green denim just this week. More jeans in my future!
Pattern Review – S8222
Pattern Description: Mimi G's design for skinny jeans. Includes three options for the back piece to fit slim, average, and curvy.
Pattern Sizing: 6-14. I went with size 14 average but made some modifications for a better fit.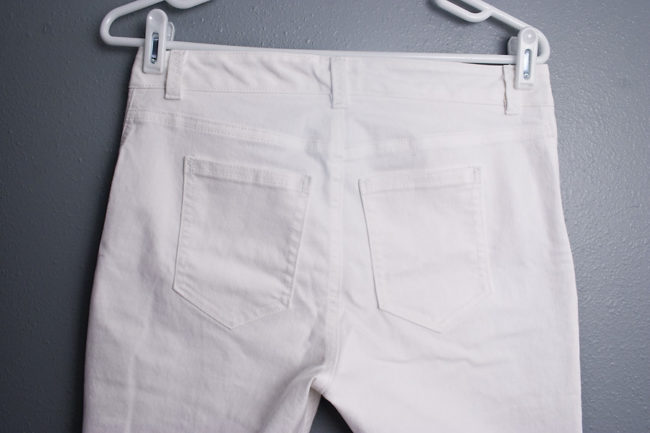 Did it look like the photo/drawing on the pattern envelope once you were done sewing with it? Yes!
Were the instructions easy to follow? Yes, although I did do quite a bit differently. I followed the fly zipper instructions from Angela Wolf's Craftsy Class "Sewing Designer Jeans."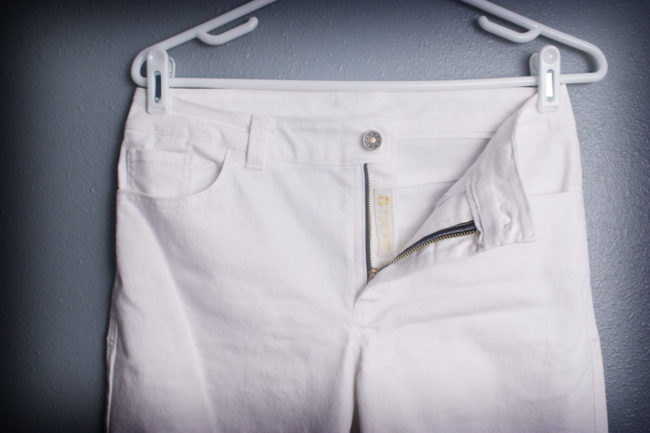 What did you particularly like or dislike about the pattern? This is my second make using this pattern and I have another in the queue. I like the higher rise and the fit. The construction was also quite a bit easier the second time around and I'm pretty sure for my 3rd pair I won't even have to read the instructions.
Fabric Used: White Stretch Denim from Joann's. This was a bit less opaque than I would have hoped, but really, I guess that's to be expected from white.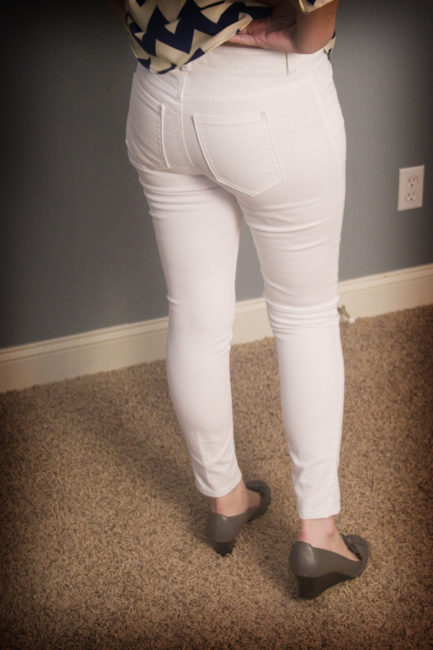 Pattern alterations or any design changes you made: I made all the same fitting as design changes as described in my last review. In addition, I made the following changes:
Fly overlap: Extended the right fly area by 1/2″ so when the zipper was attached it was actually tucked in under the left size by 5/8″.
Finally got a jeans button to work!
Cropped the hem up by about 1 1/2″.
Lowered front waistband: I did this by slashing a line from the side seam to the center front and folding out 3/4″ at the CF. This maintains the length of the side seam so it matches the back but dropped the center front by 3/4″ so it sits more comfortably on my tummy.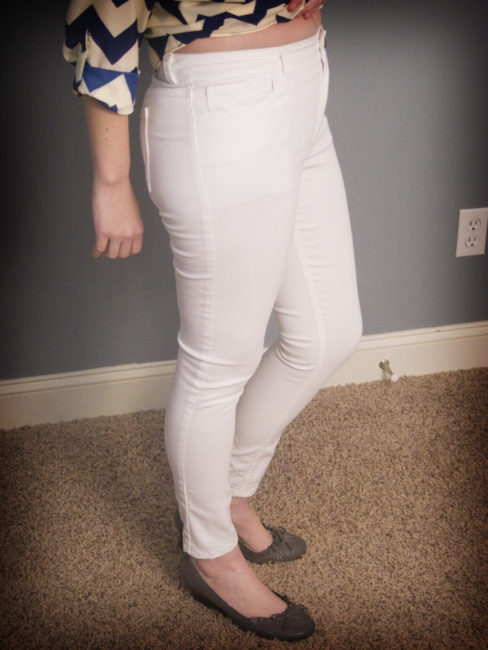 Would you sew it again? Would you recommend it to others? Yes…this is my second, the third already has fabric set aside and I may go back and make another in the dark blue.
Conclusion: Is there such a thing as too many pairs of jeans? Especially when they fit? I don't think so. I highly recommend this pattern!