Well it's now HOT so all I want is to sit under the swamp cooler. But, if I have to go out, I want to be comfy and cool. What better than a Muu Muu dressed up with a waist tie? I've had this pattern in my queue for a while and was just waiting for the right fabric for it. When I found this slightly stretchy crepe at JoAnn's I knew it would be perfect!
I had a bit of drama with this dress, but it was of my own making. I thought I was being so smart when I cut out the waist tie…not! I folded it over twice (4 layers) and used my quilting ruler to cut the pieces, and then cut down the length, but cut off at the fold so I ended up with 4 small pieces instead of 2 long pieces. Argh. I had resigned myself to having extra seam-lines on the tie when I found the fabric again at JoAnn…yay! I ended up buying another 1/2 yard and this time correctly cut it out.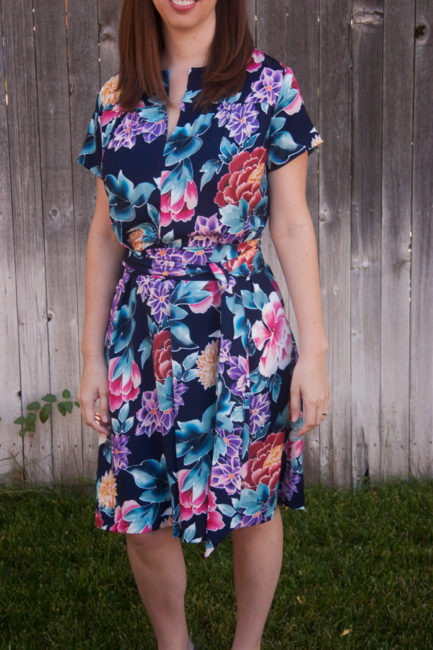 It can't really be a sewing project if I don't mess up somehow, right?
Pattern Review – V8959 (oop)
Pattern Description: From the envelope – Loose-fitting, mid-knee length, A-line dress, gathered into front and back yoke, has jewel neckline, front slit with button and thread loop closing, center front one-way pleat, and short sleeves or full length sleeves gathered into buttoned cuffs. Self tie belt holds in fullness at waistline.
Pattern Sizing: Size 14.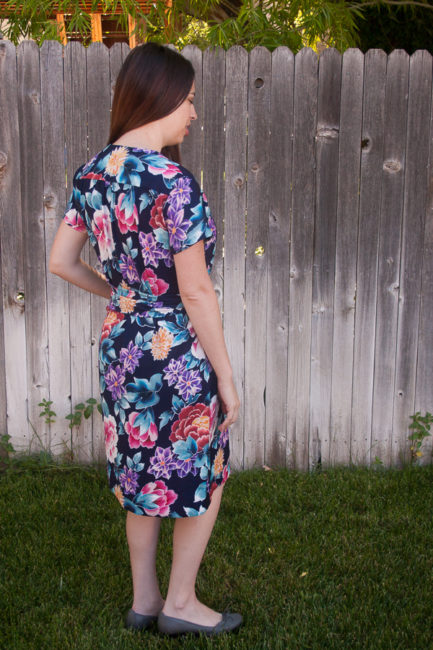 Did it look like the photo/drawing on the pattern envelope once you were done sewing with it? Yes. I chose not to add the button and loop closure at the neck since I figured I'd never want it buttoned anyway and I made my tie belt a bit longer and tapered the ends. But, other than that…yes!
Were the instructions easy to follow? Yes! I especially liked the design of the front yokes. They are each one symmetrical piece that are then folded over to complete the facing.
I didn't follow the instructions for finishing the yoke and instead burrito-ed the back yoke and then folded the front yokes RST and stitched on the machine (the instructions call for hand stitching all of that down…not gonna happen!).
Also, instead of cutting the front as two pieces I placed the seam-line of the pleat on the fold. Otherwise, I followed the pattern exactly and didn't make any fitting changes.
What did you particularly like or dislike about the pattern? The fit was perfect! Based on body measurements I should be sewing a size 16 for my bust but figured since it was loose fitting (and after comparing to my sloper) realized there was plenty of ease. I like how easy it is to throw on and even though it's loose-fitting, the self tie belt really makes it look good.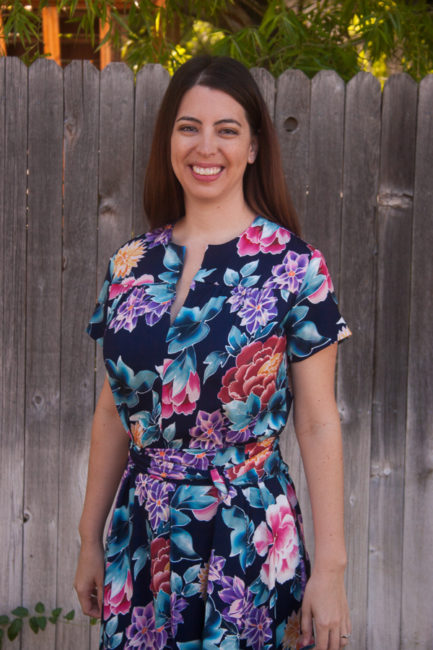 Fabric Used: "Asian Floral Navy Stretch Crepe" from JoAnn's. This is 93% poly / 7% spandex and is just stretchy enough to add a bit of comfort to the fit. It was pretty easy to work with although it was a bit more slippery than I am used to.
Pattern alterations or any design changes you made: I realized after the dress was complete that the stitch line that holds the pleat down was just a bit higher than my actual waist and would show above the tie belt. So I unpicked that row of stitching and cut the pleat so it sat about 1″ lower. That solved the problem.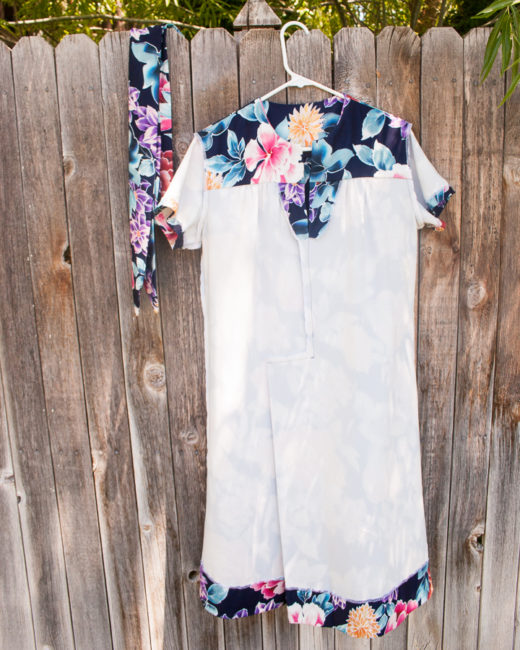 Would you sew it again? Would you recommend it to others? It's a bit of a distinctive dress so I'm not sure I'd sew it again. I did like the front yoke technique, though, so may consider that for other projects. If you can find the pattern, I recommend it. I found mine for $1 at the local thrift store…score!
Conclusion: Perfect summery dress that is really comfy but still looks put together. Its a win!