I once had a classmate who shared one way she saved money on groceries while a poor college student…she bought eggs labeled "Grade D, but edible." Since then, Troy and I use this phrase whenever something turns out to be not that great but we still end up doing it or using it. So that's why this tank is "Grade D, but wearable." 🙂
As part of my Sudoku wardrobe I wanted to make a couple of tanks to layer under some semi-sheer tops. I was originally going to purchase the Stroop Patterns camisole pattern, but as I was cleaning up my craft room I came across this tank which I already owned. I thought this one (Ottobre Magazine 02-2010 #18) would be basic and easy to make.
Not so much.
I only just looked at the photo and didn't really pay attention to the technical drawing. Do you see that "fold" at the front neckline. That is for real! This neckline was so wide that the shoulders were just completely falling off the end of my shoulder. Argh!
Also, it was huge! I made a size 42 which according to the measurements on the size chart is one size smaller than I needed. I still ended up having to take about 1 1/2 inches from each side seam (6″ total)!!!!
And the neckline….oh boy. I ended up just folding under the hem allowance and putting some clear elastic under the hem and stretching it in order to gather the front and back neckline centers.
Even still, I will wear it as a layering piece under other tops….like my bird top!
Pattern Review ~ Ottobre 02/2010 #18
Pattern Description: The little top worn under the shirt has a loose front neckline (I should have read this a little more carefully).
Pattern Sizing: 34-52
Did it look like the photo/drawing on the pattern envelope once you were done sewing with it? Yes and no. Having gone back to read the description and looking at the tech sketch its obvious the neckline would be big. But that's not how it looked on the model.
Were the instructions easy to follow? Yes the instructions were super easy and that's what drew me to the pattern but the pieces themselves didn't work well.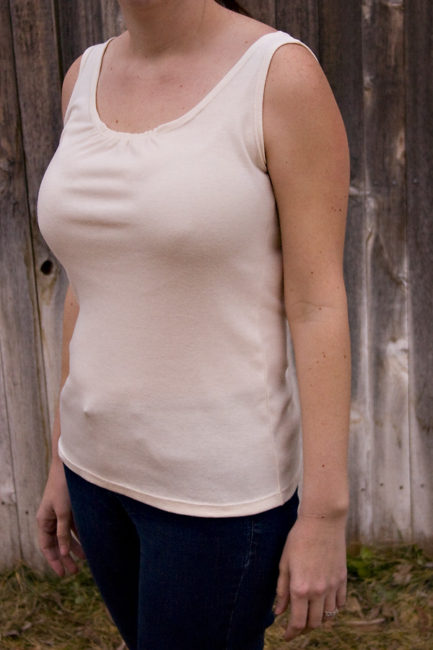 What did you particularly like or dislike about the pattern? I liked the idea of it more that the execution.
Fabric Used: Interlock knit from JoAnn's.
Pattern alterations or any design changes you made: As mentioned above, I took in the side seams by a total of 6″ all around and added elastic to the center front neckline and center back neckline.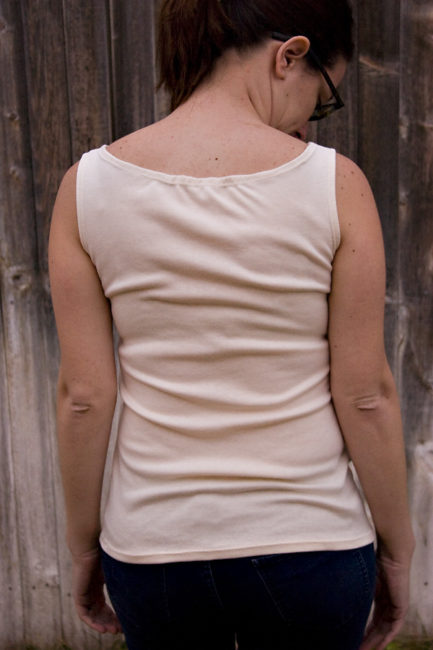 Would you sew it again? Would you recommend it to others? No. I'll be looking for another tank pattern.
Conclusion: Fit was off and the design didn't work for me. I won't be making this one again and would recommend you carefully consider the fit and shape of this top. But it is wearable and I will still use it under other tops as a layering piece.