Podcast Video
Play Now
|
Play in Popup
|
Downloads 403
Intro/Announcements:
Apron Sew-Along + Recipe Swap! August 1 – September 30. Join us in making any apron you'd like. Share your FO and a recipe that you love. If you'd like to contribute to the Pinterest Board, PM me and I'll add you!
Knitting:
WIPS:
Enabling
Plymouth Yarns, Homestead in "Moss Green" – this will become some kind of vest.
Berroco, Ultra Alpaca – this will become some fabulous neck warmer, cowl thing.
Giveaway!
Mountain Colors, Crazyfoot, in "Birch Tree."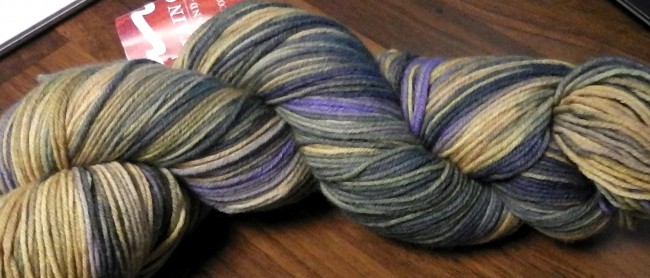 All you need to do is go to the Mountain Colors website and tell us your favorite color! Post in the Ravelry giveaway thread for a chance to win! (Closes Oct 2nd, must be group member, only one entry.)
Sewing
Khaki Pants for Troy are (still) nearly finished! Just needs closures at the waistband and some hemming. using KS3267
Must start on Halloween costumes soon – I will be using Simplicity 4055. Really, I'm more excited about Troy as Mr. Darcy!