Ep. 54 - Turned a Corner
[ 38:33 ]
Play Now
|
Play in Popup
|
Downloads 68
Watch here, or on iTunes.
Intro/Announcements:
Sister's baby shower went well!
Blip will no longer be sending the podcast to i-tunes. I have a workaround in the works and so hopefully this episode will still show up in your feed.
Working on Legislative funding for J's preschool.
Knitting:
FOs: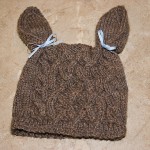 Rundstrom Pullover, my design. KP WOTA Tweed in Farmhouse Heather and Thirst Heather. US 7 and US 5. The pattern will be released this next week!
Winding Journey Hat and Mitt – my design. Malabrigo Arroyo in Fresco y Seco. US 1 and US 3. To be released and KAL on February 18. This will be a charity pattern with all proceeds going to support Northern Utah Autism Program!
Nutbrown Hare Hat, by Sally Cameron. Sirdar Country Style DK (vintage). US 2 and US 4. This turned out great! Hope my new nephew likes it!
WIPS:
Morena Cardigan, my design. KP Stroll Sport in Fedora. US 4. Almost finished with the shawl collar. Should be ready for testing this next week. Let me know if you would like to test.
Sewing:
Another drawstring bag! I love this bag size!
Embroidered onesies for my sister's baby shower.
Scrapbooking: