I am so stinkin' excited about these shoes!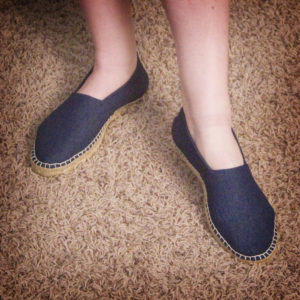 I've had in mind to make some espadrilles for a while now but had never been motivated enough to make it happen. The Sudoku Wardrobe Challenge was the perfect chance to try it.
I ended up going with soles and pattern from allNaturalHandKnits on Etsy.
The soles are authentic and were shipped all the way from Spain!
Pattern Review
Pattern Description: 10 page instructions and pattern for making espadrilles.
Pattern Sizing: 36 to 42 EU. I ended up ordering size 41.
Did it look like the photo/drawing on the pattern envelope once you were done sewing with it? Yes!
Were the instructions easy to follow? Yes! Both soles are exactly the same (no left or right) so sewing is easy as everything is symmetrical.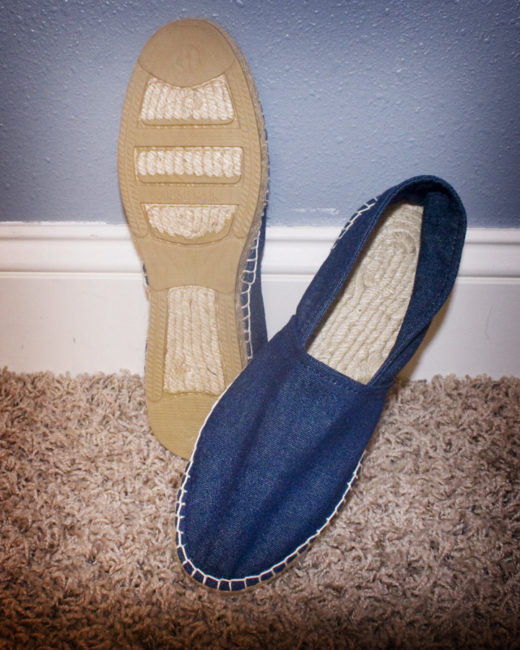 What did you particularly like or dislike about the pattern? I really like the style of the pattern and the instructions were super easy. It fit really well onto the sole.
Fabric Used: 100% cotton denim from JoAnn's. This is actually the 2nd top I made for the soles. The first set used leftover stretch denim from my jeans but ended up too wide across the top of my foot. I may go back and remake the top in another stretch denim for added comfort.
I also used some crochet cotton for the blanket stitch to attach the tops to the soles. It was really easy to work with – using a curved needle of course.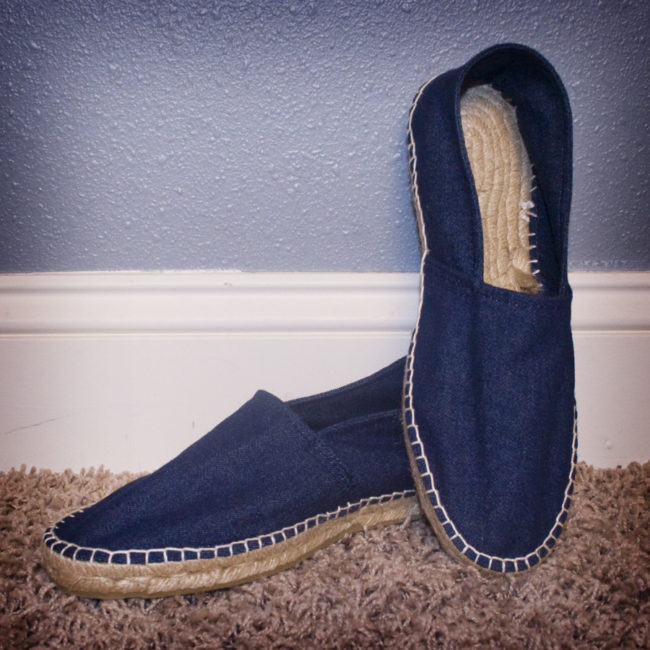 Pattern alterations or any design changes you made: I ended up having to take out a dart along the top and the back to fit my long skinny feet. The alteration was super easy and re-stitching a new set of uppers only took about half an hour.
Would you sew it again? Would you recommend it to others? Yes! I'm not sure if I'll order another set of soles but I may end up replacing these tops with something with a bit of stretch.
I do recommend the pattern but keep in mind that it is designed to match these particular soles.
Conclusion: Awesome!