I'm finally getting around to finishing sewing projects that have been lingering for a while. This works out well for #MeMadeMay2017 since I planned to complete 4 projects in May. This is only the 2nd completed project, but it was about time!
Here's my first finish – McCall's 7351 Shirt-dress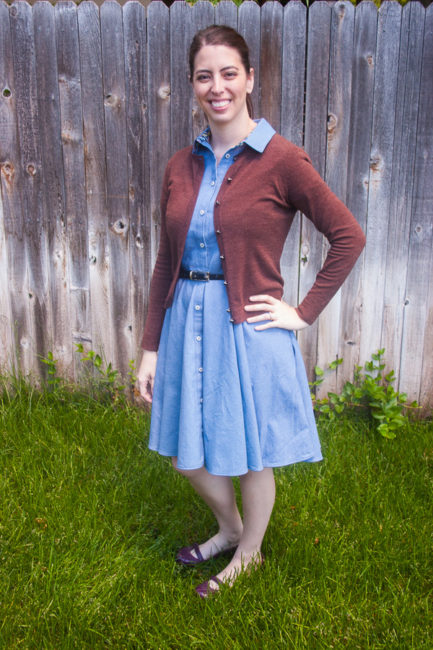 According to my project log I started this on April 24, 2016! Way back when. All it needed were the buttons. Seriously.
And then, in January I added buttons. However, ARGH! When I used my automatic buttonhole foot it created buttonholes that were too small for the buttons. Best I could figure, the bit of foam that sits on the back of the foot to cushion the button had been crushed too often so it didn't add the right amount of ease for the button to fit through the hole. So I hid the dress in the back of the closet until I could work up the nerve to redo the buttonholes.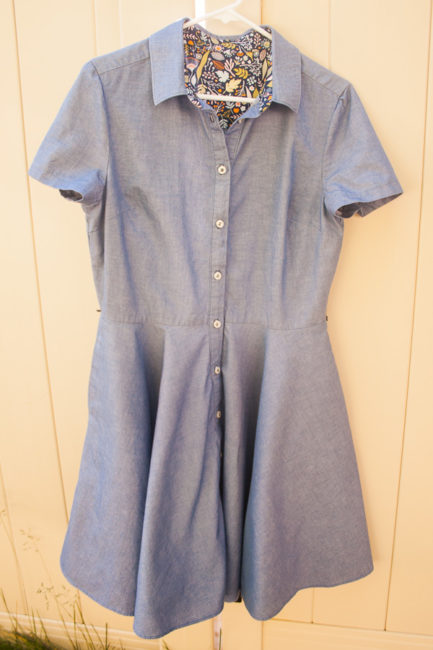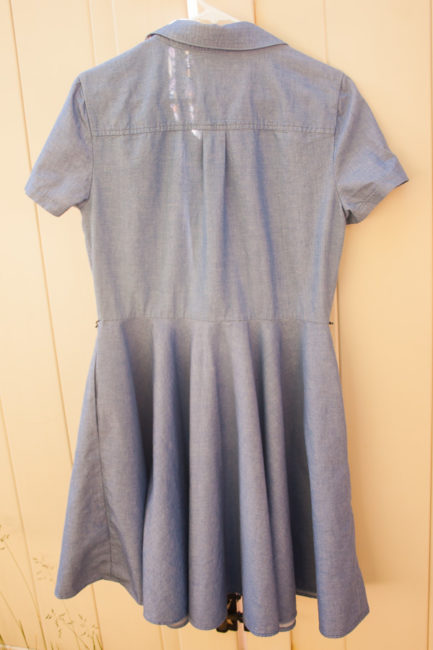 Wasn't that a silly decision?!?
So, it took me until last week when I finally pulled the dress back out to realize I didn't have to redo the buttonholes, just get smaller buttons. Wow, can't believe it took me that long to realize it. I guess I was just blinded by my failure and wanted to ignore the problem. Well, now I had an easy solution…off to Joann's for smaller buttons.
The original buttons were 1/2″ so I got 7/16″ shirt buttons. It was a matter of about 10 minutes to repeal remove and replace the buttons. And then …  dun, dun, dun … it was still really difficult to get them to fit through the buttonholes. What?!? Turns out, these "shirt buttons" are quite thick. 🙁
I wore the dress anyway but will probably go buy yet some more buttons and replace them. What drama!
Pattern Review – M7351
Pattern Description: Dresses have pointed collar, collar and front bands, fitted bodice, back pleat, self lined yoke, forward shoulder seams, French darts and narrow hem. I made view D which also has a flared skirt cut on crosswise grain, short sleeves and side seam pockets.
Pattern Sizing: My envelope is 14-22. I made size 14 with the D bust.
Did it look like the photo/drawing on the pattern envelope once you were done sewing with it? Yes!
Were the instructions easy to follow? Yes, as far as I remember. It's been a while. I also remember using the burrito method on the yoke for a nice clean finish.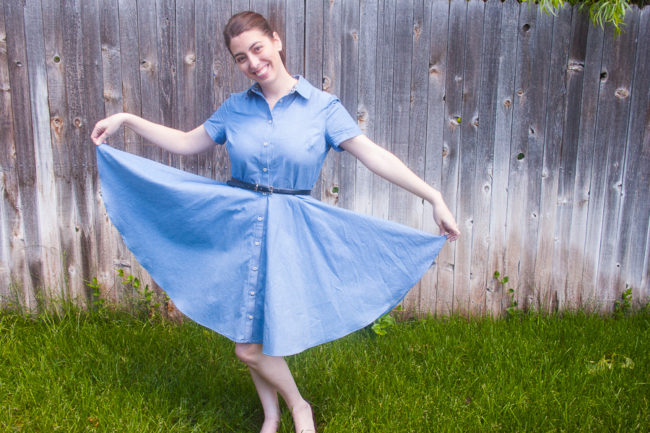 What did you particularly like or dislike about the pattern? I really like all of it. I think I'll need to make a few fitting tweaks if I make this again the future but it turned out great for my first shirt-dress.
Fabric Used: Light denim/cotton chambray. I also used some quilter's cotton as the contrast under collar, inner collar band and inner yoke.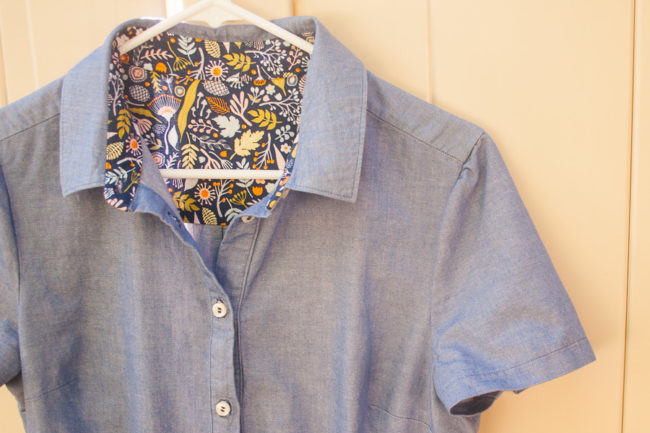 Pattern alterations or any design changes you made: I made the dress exactly as called for (except for using a bit of contrast fabric). I also added belt loops at the side seams. Looking the photos, I didn't realize the belt sat higher than the back waistline so I'll probably end up adding another loop in the back.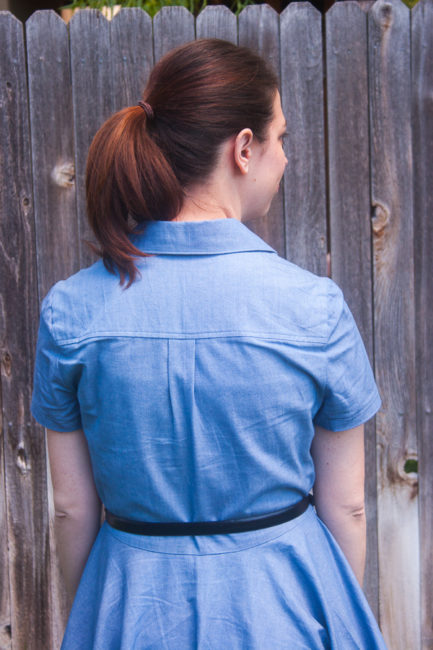 I would make a few changes in the future:
I would use much lighter interfacing on the button band, as what I used turned out a bit stiff. Maybe it'll soften up after a wash?
I will also need to add about 1″ length to the bodice between the armhole and bust dart. I need to lower that dart (and waistband) a bit for my personal fit preference.
Would you sew it again? Would you recommend it to others? Yes, I'd like to make this again. I'm thinking in addition the above mentioned changes I might like the longer sleeve (rolled sleeve) version. I also think this would look great in a light weight rayon or some such fabric…maybe with some patterning? Oooh, or maybe in a plaid flannel as a fall dress with a chunky belt and boots? So many options!
Conclusion: I like the options for bust sizes as that makes my fitting job much easier. The skirt shape also makes fitting below the waist irrelevant which is nice. This is a versatile pattern that would work for just about everyone!