And I love it! In true last-minute-lady style, I completed the last item yesterday evening, knowing full well that the entry was due today! Well, I got it done so I guess that's all that matters.
This process has really helped me focus on making things that I will actually use. I do enjoy making difficult or "amazing" things but then I don't end up wearing them, so what's the point? Every item is this wardrobe is super coordinated with not only the rest of this wardrobe, but many other items already in my closet. Win!
I also had a deadline so I couldn't put things aside in favor of shiny new projects or toss them aside in "time out" of I encountered a problem. I had to power through and get it done which really isn't hard to do but isn't my typical modus operandi.
The Best Laid Plans
It all started with a plan. I decided to use the same color scheme as my cruise wardrobe from last year since I had lots of stashed fabric from items I didn't complete in time. Plus, I already knew I loved all the colors.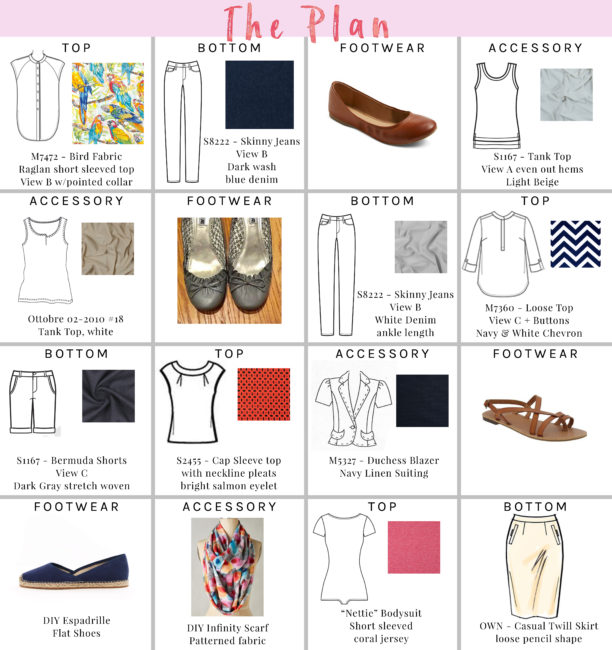 What I Made
I ended up making 12 of the 16 items on the grid. Below is a list of all items on the chart, in order left to right by row, and linked to the review on Pattern Review and to my blog post.
Row 1:
Parrot Button Down Shirt   |   McCall's 7472   |   blogged
Indigo Blue Skinny Jeans   |   Simplicity 8222   |   blogged
Ballet Flats in Tan
White Basic Tank Top   |   Simplicity 1167   |   blogged
Row 2:
Cream Basic Tank Top   |   Ottobre 02-2010 #18   |   blogged
Gray Wedge Heals
White Ankle-length Skinny Jeans   |   Simplicity 8222   |   blogged
Navy & Cream Chevron Henley   |   McCall's 7360   |   blogged
Row 3:
Gray Bermuda Shorts   |   Simplicity 1167   |   blogged
Coral Eyelet Cap-sleeved Top   |   Simplicity 2455   |   blogged
Navy Short-sleeved Jacket   |   McCall's 5327   |   blogged
Brown Strappy Sandals
Row 4:
Navy Denim Espadrilles   |   allNaturalHandKnits   |   blogged
Up-cycled Infinity Scarf   |   DIY pattern   |   blogged
Coral Jersey Bodysuit   |   Nettie Bodysuit   |   blogged
Casual Cream Twill Skirt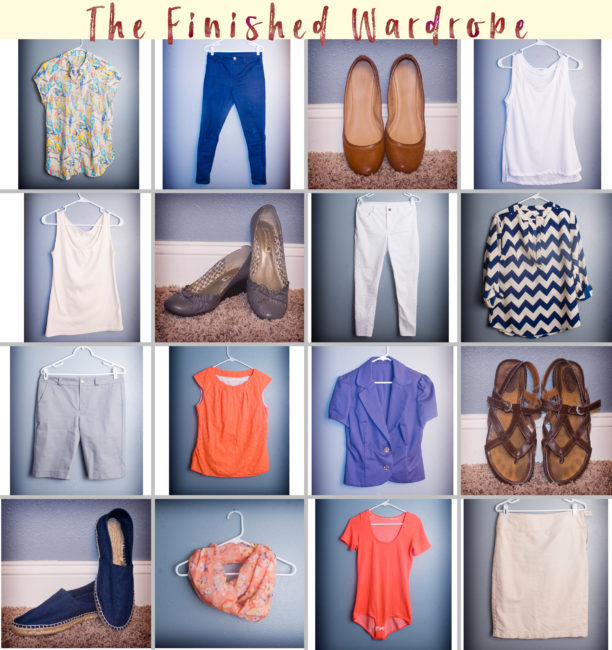 Mixin' & Matchin'
The best of part of completing this wardrobe, is all the outfits I can make using these pieces. Since this is a Sudoku board outfits are matched using rows, columns, and diagonals. I also found that the quarters and center created nice outfits, for a total of 15 outfits!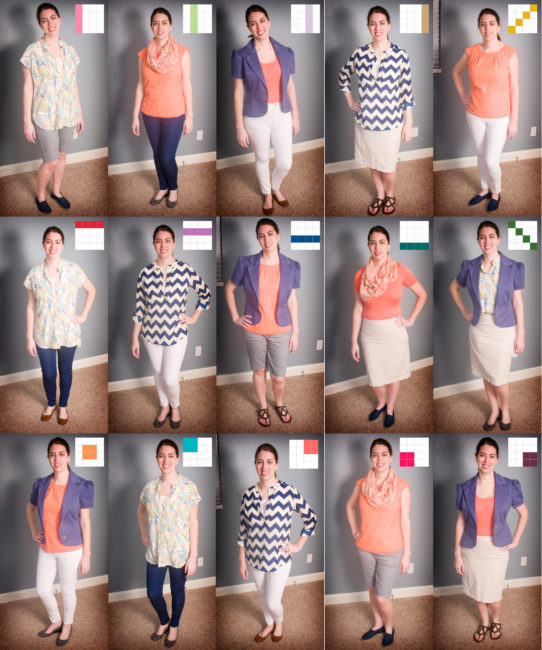 My favorite outfits are Row 1/Quadrant 1, Row 2/Quadrant 2. I'm really happy with how cohesive everything is and that I'll be able to use these clothes quite often.
This process also helped me get on board the TNT (tried-and-true) pattern train. I understand now why people would want to make the same pattern over an over. Now that I have a skinny jean pattern that fits, I want to make it in all the colors and lengths!
What About Next Time?
For me the planning process went really fast but it took me the full 2 months to complete the pieces. Having a very specific vision of what I wanted made it easy to select patterns and fabrics.
I think this is a great way to plan my sewing to ensure that I end up with pieces that match so I have ready made outfits. With all that said, I might need to take a break from structured plans and work on some random stuff for a while as a palette cleanser. But, I will keep the Sudoku in mind when I start thinking about fall sewing!