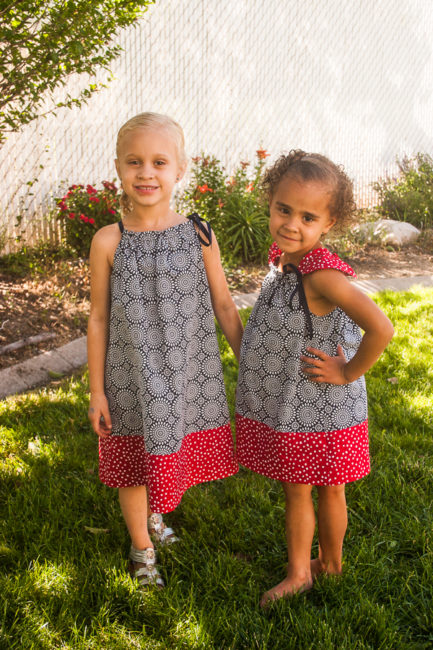 A few weeks ago my niece Miss A asked me to make her a dress. I couldn't say no to that cute face! She insisted it had to be blue, and white, and red. Of course, if I was going to make a dress for A her little sister B needed one too…it's only fair.
I looked through all my Ottobre magazines and found a cute summer dress, with an unfortunate name. The Three-way dress. I blame it on translation from Finnish since it is a dress that can be worn three different ways. Still, it makes me giggle. 🙂
Pattern Review – Ottobre 03-2009 #18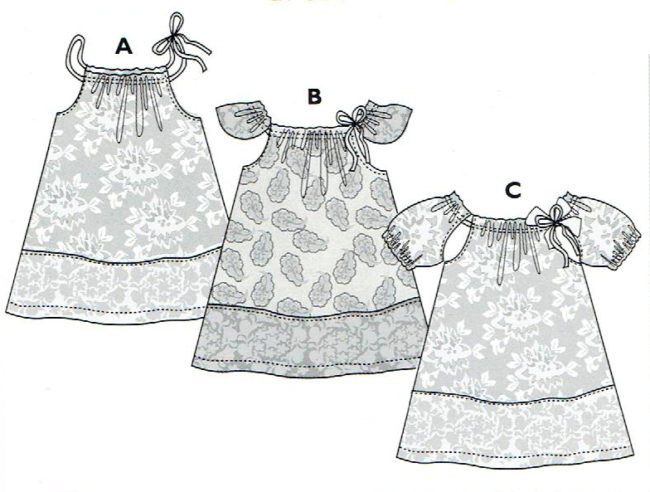 Pattern Description: From the magazine – One day is spent on the sun-drenched beach and the next exploring the alleys of the old town. We designed this wonderfully versatile "three-way dress" for such varied holidays activities. It is sewed from printed cotton poplins. The basic dress is a sundress made of front and back panels, with gingham-ribbon as shoulder straps.
The ribbons functioning as shoulder straps are also passed through casings at the top edges of the dress, and thus other garment pieces, such as frills and sleeves, can be inserted between the front and back panels. In the large photo, the dress has puffed sleeves on the shoulders. The armpits are left open, making the dress cool to wear even in hot weather. A gingham check bow is tied as an embellishment around the shoulder strap.
The small photo displays the basic dress with just the shoulder straps. This dress is a good example of how bold floral patterns look great on children's clothes too! The rectangular scarf around the girl's head is cut from the dress fabric. If you wish, you can also stitch the sleeves to the body of the dress as usual and thread elastic into the casing instead of ribbon.
Pattern Sizing: 92-146 cm. I made size 116 for the 6 year old and size 92 for the 4 year old. I took a guess on sizing and Miss B thought her's was too small. 🙁 I felt like Miss A's dress was a bit big but I guess that means she can grow into it. 🙂
Did it look like the photo/drawing on the pattern envelope once you were done sewing with it? Yes!
Were the instructions easy to follow? Yes. I made all the versions…so the dress and the extra ruffle and sleeve thinking they could interchange them however they'd like. Its a pretty straightforward dress so it wasn't hard to make.
What did you particularly like or dislike about the pattern? I like the versatility and how cute it is with contrasting fabrics.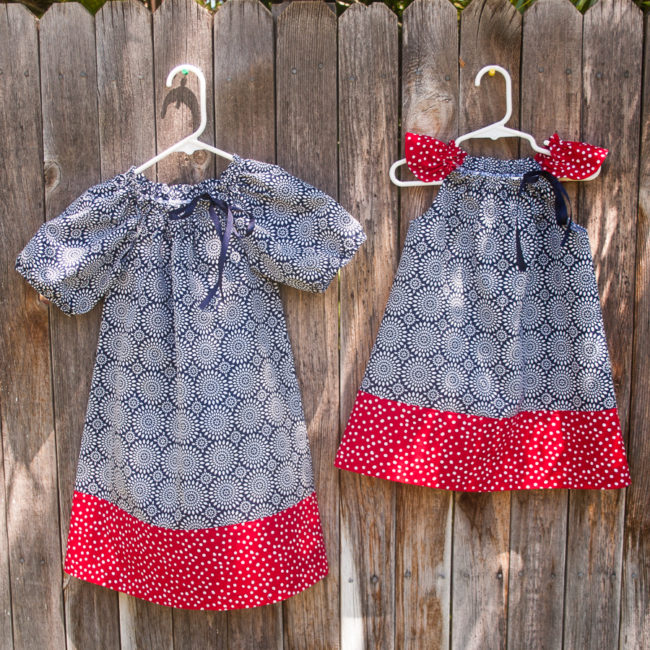 Fabric Used: 100% cotton from the quilting section of JoAnn's. I struggled with color choice since "A" requested red, white, and blue but I didn't want to use specifically patriotic fabric so it could be worn for more than just one week. I think it turned out just right!
Pattern alterations or any design changes you made: Followed the pattern exactly and it worked out great! Only change was making all the views. 🙂
Would you sew it again? Would you recommend it to others? This was a one-time gift for the little ladies and so I likely won't make it again. I do recommend it because it is easy and cute!
Conclusion: Cute, fun sewing project.