As part of the Sudoku Wardrobe Contest I had to make 4 accessories. The easiest choice was a tank top to layer under some other tops. Since I had such trouble with my last tank, I decided to try a different pattern. I went back to Mimi G's collection in S1167 for simple tank with a bit of interest at the hem.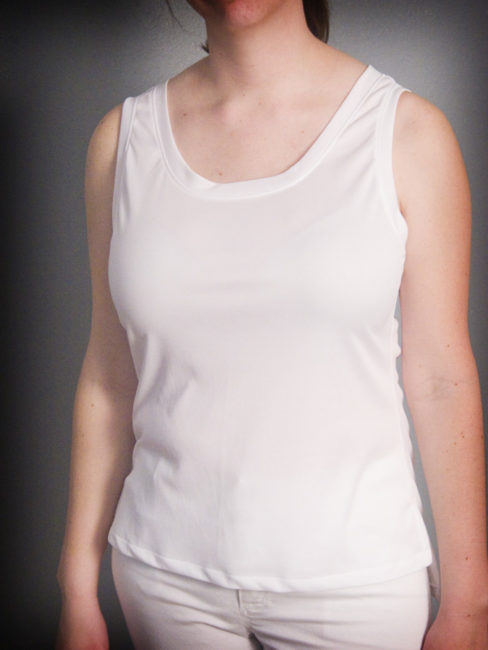 Pattern Review – Simplicity 1167
Pattern Description: Mimi G's tank pattern is part of a wardrobe set that includes a tank, jacket, pants, and shorts.
Pattern Sizing: 6-14. I made a straight 14 which is a size smaller based on bust measurement but is the standard size I chose for Big 4 patterns. Also, since this is to be layered under other tops I didn't want it to be too loose.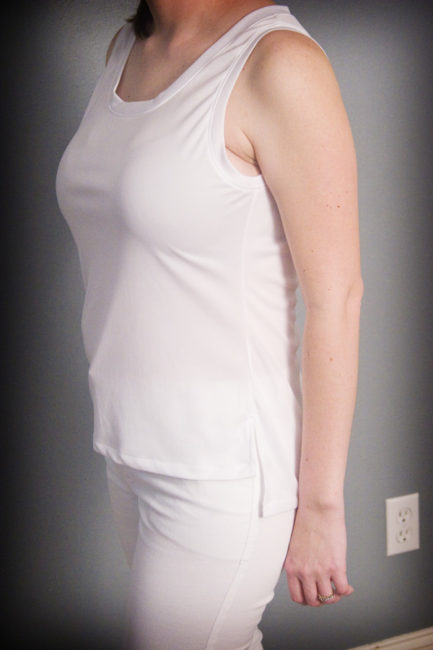 Did it look like the photo/drawing on the pattern envelope once you were done sewing with it? Yes!
Were the instructions easy to follow? Yes! I followed them exactly and it worked great. I was able to make it entirely on the serger except for the hem and top-stitching.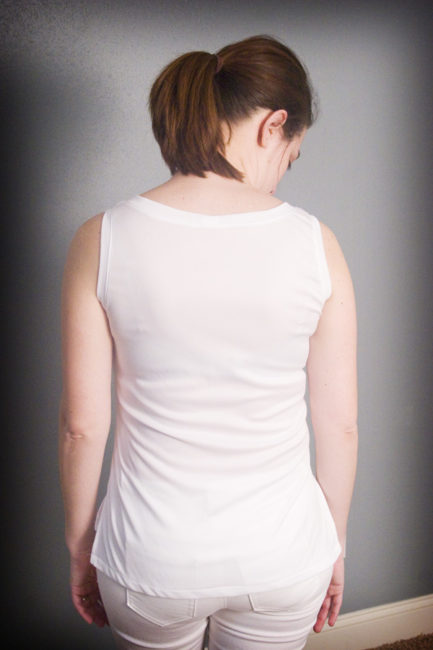 What did you particularly like or dislike about the pattern? Its a basic tank so it was easy and turned out exactly as expected. I like the finish on the neck and armhole and like the look  of the high/low hem.
Fabric Used: Basic white jersey knit from JoAnn's. It is a bit more transparent than I'd like but I was on a time crunch and had to go with whatever was in the store. But, as an under shirt, it is just right!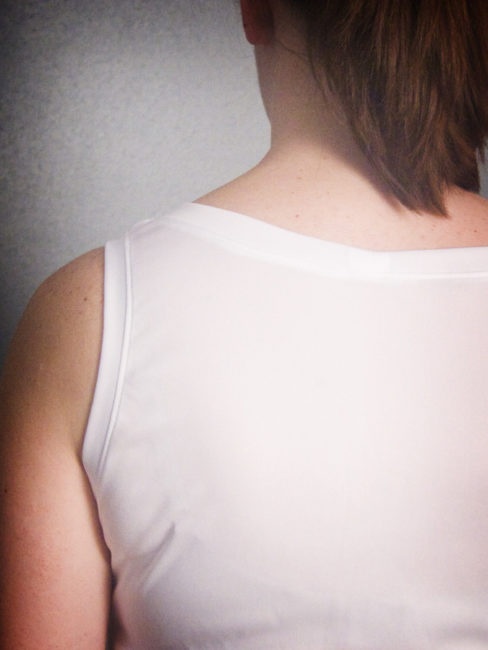 Pattern alterations or any design changes you made: I only hemmed 5/8″ which is about half the hem called for. I wanted a bit extra length in the top. Next time, I would add maybe another inch to the torso. Or, I might try one where the front and back are even but leave the slit on the sides. I love basic patterns like this because you can change it but so easily by making small adjustments.
Would you sew it again? Would you recommend it to others? Yes. Very easy and produces a nice tank.
Conclusion: I'm happy with this make!