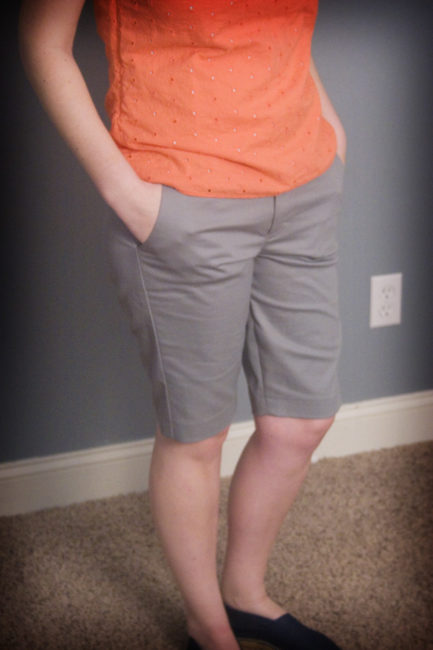 A spring wardrobe wouldn't be complete without a pair of shorts! While it is now "officially" spring…it is still a bit too chilly to wear these. Besides, I have winter white legs so I'll just have to spare everyone that for a while longer!
Pattern Review – Simplicity 1167
Pattern Description: Mimi G's shorts pattern is part of a wardrobe set that includes a tank, jacket, pants, and shorts.
Pattern Sizing: 6-14. This time I made a size 12 based on the actual garment measurements instead of the body measurements (which called for a size 14). I prefer less ease in my bottoms so that worked out well.
Did it look like the photo/drawing on the pattern envelope once you were done sewing with it? Yes, except for my modification on the hem.
Were the instructions easy to follow? Yes. I didn't use the fly instructions since I'm in love with Angela Wolf's fly method from her Craftsy class "Sewing Designer Jeans." This is the second such fly I've made over the last 2 weeks and it is so awesome…I'll never use another method!
What did you particularly like or dislike about the pattern? I like the look of it since it's a bit dressier than jeans. I also liked how the pocket was done. I've got my eye on the jacket as well.
Fabric Used: Bottom-weight twill in a medium gray color from JoAnn's. It has a slight bit of stretch but I can't tell if that's because of the content or just mechanical give.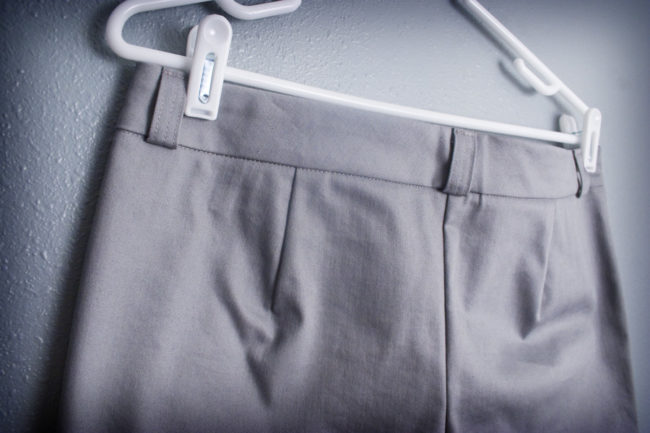 Pattern alterations or any design changes you made: I had to make the back darts wider by an extra 3/8″ on each dart leg. I also ended up pegging the leg along the inseam from about mid thigh to hem. My legs narrow out faster than the pattern called for. I also cut off 1 1/2″ off the hem and just folded it up to blind stitch rather than the folded hem called for. I think this gives a more polished finish.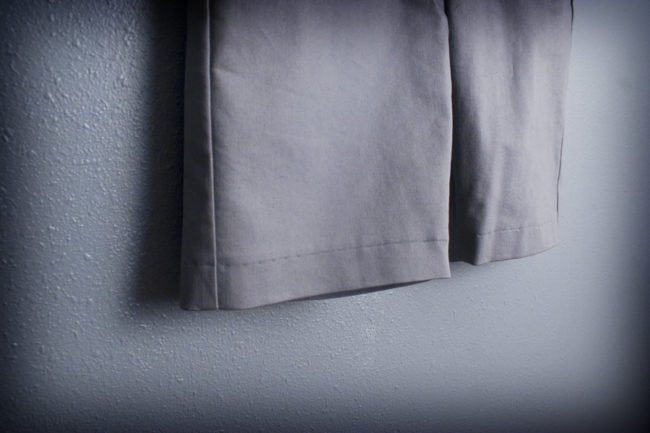 Changes I plan for future makes: For the next pair, I will have to raise the back waist a bit to get over my booty and probably take it in just a bit more. Not sure if that's a swayback issue or just how my bum is shaped, but I've noticed this problem with all 3 bottoms I've made for the Sudoku Wardrobe. I may just have to plan on this for every make.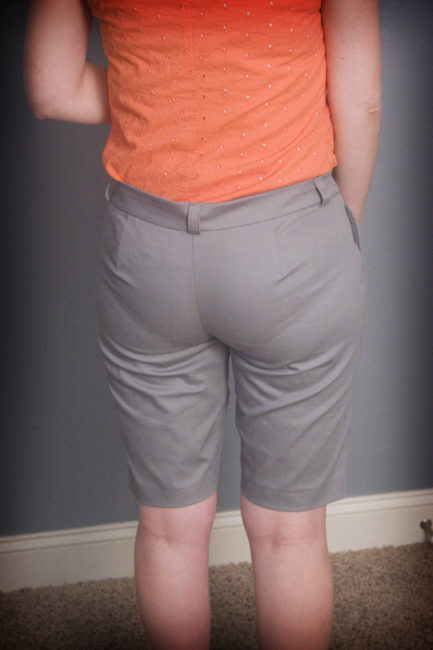 Would you sew it again? Would you recommend it to others? I really like the finished garment and would consider making it again. I do recommend it to anyone looking for a Bermuda style short.
Conclusion: Nice shorts that are super comfortable and will be infinitely wearable once it finally warms up.