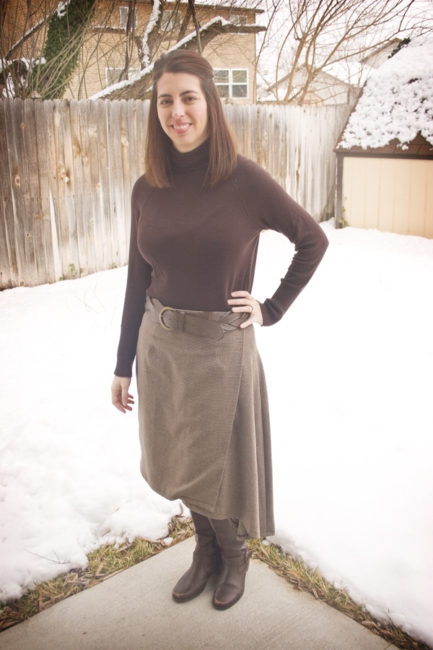 This skirt was finished a long time ago (December 2016) and I've even worn it twice but never got around to taking pictures. And then, these pictures have been waiting another few weeks to get blogged. Slacker, much?
I really like it but need to fix a couple things on it. I'm also not sure about the styling here with the boots an turtleneck. Although, it has been very cold and this was a very warm way to wear it. Perhaps as it warms up I can wear a shorter sleeve top and heels?
Some things to fix
I really like that it's a wrap skirt which means it will be really easy to adjust the fit, which is one thing I'll need to fix. It is a bit loose on the waist, but all I need to do is move the button over a bit and the hook (for the hook & eye).
Also, there is a bit of extra fabric at the front bottom edge of the skirt. I think because the facing is very stable with the interfacing and the front is not, when I stitched it down it was a bit off. Should be an easy fix, I think. All I need to do is unpick the top stitching (hem stitching) and adjust it so its flat then re-stitch. It may not be perfect on the inside but I think the outside is all that matters, right?
Pattern Review – V8956
Pattern Description: Semi-fitted, wrap skirt has button and/or hook and eye closing, narrow hem. I made view B which have a waistband and sides extend into drape.
Pattern Sizing: 14-22. I made size 16.
Did it look like the photo/drawing on the pattern envelope once you were done sewing with it? Yes!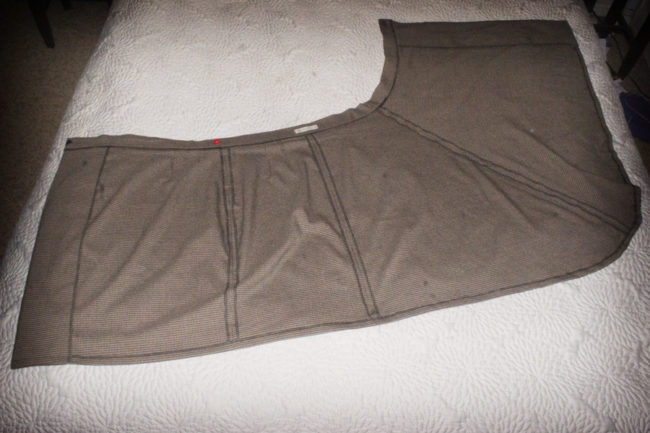 Were the instructions easy to follow? Yes! This is a very simple skirt to construct as it is made flat. Also, there is no lining and I just serged the seams and pressed them open…easy!
What did you particularly like or dislike about the pattern? Easy to construct and easy to sew. The pattern pieces are large and a bit awkward to layout on my cutting table, but that's not the pattern's fault. 🙂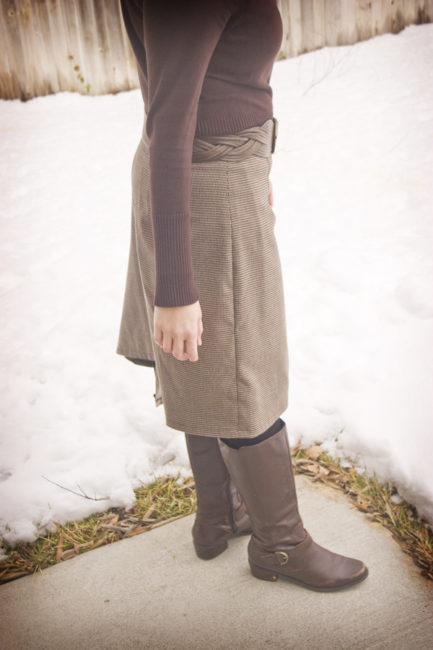 Fabric Used: Wool/Poly Blend Suiting from Joann's in a brown and black tiny houndstooth. It turned out to be super warm and very easy to sew.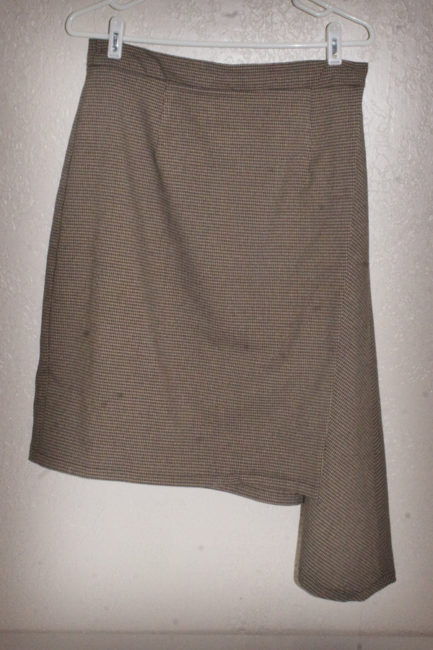 Pattern alterations or any design changes you made: In addition to the fixes mentioned above I did end up taking about 4″ off the hem length to get a length between views A and B. I'm average height (5'6″) and view B would have been mid-calf on me…not the look I was going for.
Would you sew it again? Would you recommend it to others? Its a very distinctive looking skirt so I'm not sure that I need another one like it. However, I might make one of the other views without the extended drape because I do really like the wrap skirt style.
Conclusion: Easy to make and the completed style is nice and dramatic.