We are going on a cruise! And I'm just crazy enough to want to sew most of my wardrobe for it. I'd like for it to be a rather small capsule wardrobe since I will only be taking one carry on.
Based on my research the first thing I need to do is choose a color scheme. I used ColourLovers.com and came up with this one: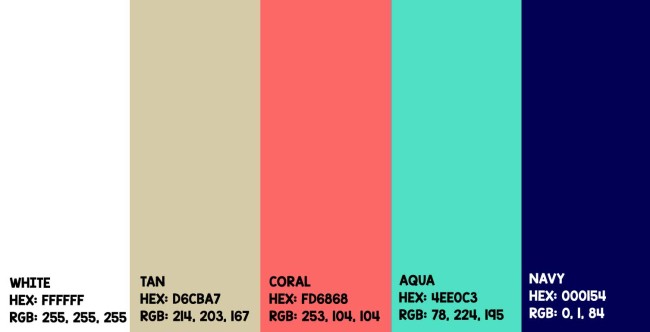 I think these colors work well together and have enough of a "pop" to be appropriate for a spring cruise. Following the suggestions over at The Vivienne Files I have selected two neutrals (tan and navy), two accent colors (coral and aqua) and white.
Then, using the inspiration from Outfit Posts where she does a "one-suitcase" series, I finalized which items of clothing I will need in what color and which sewing pattern I may use for them.
Bottoms
Tops
Boat neck t-shirt – (white and navy stripe) – McCall's 6571
Blouse patterned
Button-down shirt – white chambray – Simplicity 2255

T-shirt

– already own
T-shirt – two or three more – buy or make?
Top – short sleeved, eyelet – white – New Look 6147
Tank tops – two basic tops
Jackets
Cardigan – McCall's 6996
Cardigan – white – already own
Rain Jacket – navy or tan
Dress / Other
Swim
Shoes
Flip-flops
Espadrilles
Sneakers
Dress Sandals