Ep. 62 - Just in Time for Summer
[ 33:35 ]
Play Now
|
Play in Popup
|
Downloads 505
Intro/Announcements:
Knitting:
FOs:
Cravenleigh Cardigan is ready for purchase on Ravelry!
Basic Toe-Up Socks, using Patons Kroy Socks in Blue Striped Ragg and contrasting toe/heel in KP Stroll Tonal in Queen Anne (dyed with Cherry KoolAide).
WIPS: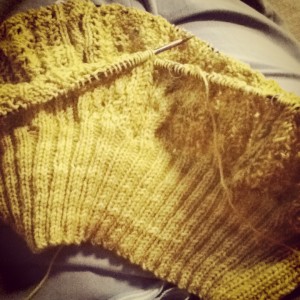 Upside-down Monkey Socks – based on Monkey Socks by Cookie A. – using Swift Fiber Studios 75/25 BFL/Nylon in "Hidden Depths" – US 0 needles.
Swatch in CoBaSi for an upcoming Tank design.
25th Street Pullover – my design – Malabrigo Sock in Ochre using US 6 and US 3.