The whole time I was working on my plaid cape, Ben kept asking if it was for him. So, with the leftover fabric I had just enough to make him a pair of pants. Of course, as soon as they were finished he was asking about the matching shirt. (Not gonna happen!)
Working on these pants reminded me how much I enjoy Ottobre Magazine patterns. Then, I got an email from Ottobre about their new magazines and no shipping so of course I subscribed to a year! Yay! More sewing to come.
::: Pattern Review ::: Ottobre 06-2011-129
Pattern Description:
From the magazine description: "Pants in cargo style with narrow legs. The diagonal panel seams on the pants back meet the side seams at the bottom edges of the front-hip pockets. The large leg pockets, as well as the front pocket pieces and back insert panels cut on the crosswise grain, add to the cool look of the pants."
Pattern Sizing:
128-170 cm. I selected size 140 which is one (and a half) size larger than my son measured. I figured he could wear them longer if they were bigger and decided I'd add buttonhole elastic to the waistband to allow for that growth.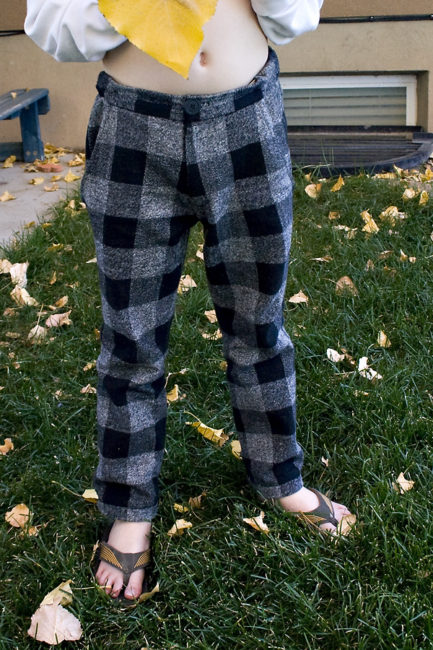 Did it look like the photo/drawing on the pattern envelope once you were done sewing with it?
Yes-ish. They are slim fitting but I made some modifications on the style by removing the cargo pockets and back panels. I also ended up trimming about 3″ off the length but think that had more to do with going up a size then a problem with the pattern (plus there was more pooling in the magazine photo).
Were the instructions easy to follow?
Yes. Although concise, I do think Ottobre instructions in general are good. But, it does help to have some sewing experience.
What did you particularly like or dislike about the pattern?
Love the European aesthetic of it with the slip legs and design features.
Fabric Used:
Left over cotton flannel from my cape. Ben fell in love with the fabric and kept asking if it was for him, so I just used the last almost yard for him.
Pattern alterations or any design changes you made:
Since I didn't have much fabric and since the fabric was quite "loud" on its own I decided to not add the cargo pockets and to not do the back insert panels. I really like the style of these pants so I'll probably make him some more in the future and keep those design elements.
Another think I did was, since I went up a size and the waistband was a bit large, I added some buttonhole elastic. Well, sort of ghetto home-made buttonhole elastic — I just took some elastic I had and cut slits along the center to act as buttonholes. I also sewed buttonholes to the inside of the waistband on both sides and added buttons for the elastic to attach to.
I only had an orange zipper in my stash…I'm kinda diggin' the "secret" contrast.
Would you sew it again? Would you recommend it to others?
Yes! I love the style and it was quite easy to construct. I'll likely make another pair with more casual fabric and add in the extra details.
Conclusion:
A happy boy = a happy mom!