I tried last year, tried again this year, and after about 6 tries I got a suit that fits and I love it! Of course, I completed it after we got back from Bear Lake (although I started it before we left). I did make a version of V9192 that didn't work at all (at least the bodice) and I ended up just throwing it away. But I knew with a few changes that this pattern would be perfect. And I was right!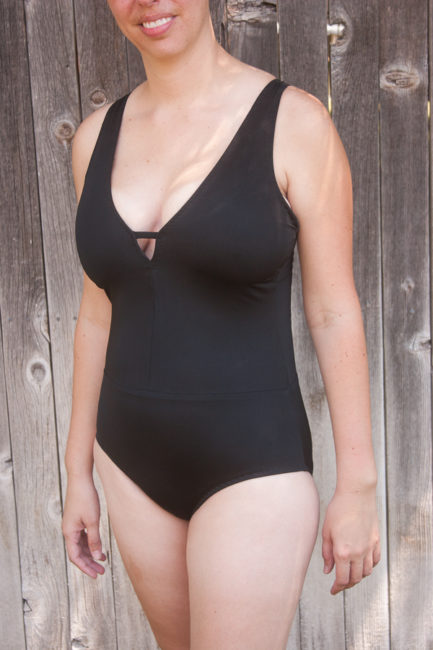 I did have to make a few adjustments for fit and preference. Let's get to the review.
Pattern Review – Vogue 9192
Pattern Description: From the Pattern Envelope – View B has front extending into back straps, slightly dropped waist, and tie ends.
Pattern Sizing: 14-22. I made a 14 with some adjustments for fit and preference.
Did it look like the photo/drawing on the pattern envelope once you were done sewing with it? Yes, except for the adjustments.
Were the instructions easy to follow? Yes. However, I'm not sure that the instructions as written will produce the most professional results. With the adjustments I made, I ended up rethinking the order of steps and changing things up a bit.
What did you particularly like or dislike about the pattern? I made View B and like that it was a 1 piece suit with good coverage but had some interest on the front neckline. However, it is very low cut so I had to adjust for that a bit. Also, the tie back is not enough support for me so I altered that as well.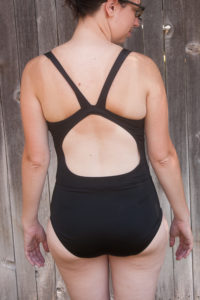 Fabric Used: Performance Fabric & swimwear lining from JoAnn's.
Pattern alterations or any design changes you made: I ended up making quite a few changes…all of them with the goal to have additional support up top.
I added 2″ in length to the top bodice (1″ at the waist and 1″ at the bust).
I also stitched the center-front seam closed for another 1.5″ so the v-neck doesn't plunge so much.
I also added a front shelf bra to each front side to keep the girls where they need to stay.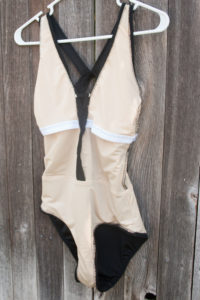 I only used one strap across the front and used Evie la Luve's tutorial to make it. I didn't use the recommended measurement but just tried on the suit and adjusted the fit to what I needed.
I changed the shape of the back piece to connect across the top as well and I also added a strip of power-net fabric  (stitched to the inside of the lining) along the back to act as a bit of a bra-band to provide extra support.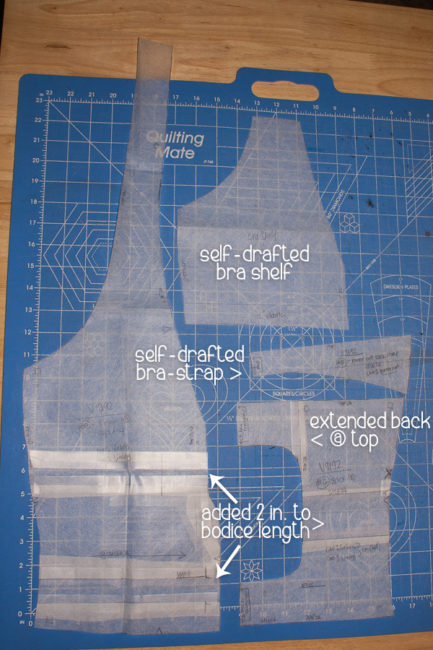 I attached the straps to the center back of the newly shaped back piece. I ended up having to cut about 2″ off the length to get the right fit.
For a better fit, I also went back and shaved off from 0″ at the waist to about 1/2″ at the leg opening on each side seam on the lining and fashion fabric.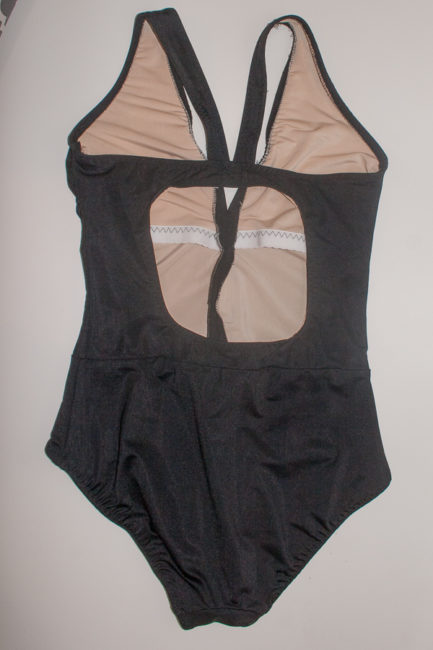 Would you sew it again? Would you recommend it to others? Yes, and Yes! I love this suit. It fits just right and is pretty! I already have fabric for another one but may try it with a contrasting bottom and bodice. I do recommend it. I also like the look of View C and if I can figure out how to add enough support up top I may try that one.
Conclusion: Love!